Team
Conniel Malek
Director, True Costs Initiative
Conniel comes to True Costs Initiative after ten years of practicing corporate law at a multinational corporation where she advised on commercial transactions, compliance and Foundation matters and represented the company on several continents including Africa and South America.
She is a daughter of the Global South, from the island of Jamaica where she observed firsthand the juxtaposition of corporate investment and the affected environmental and social landscape.  Her professional and personal experience gives her a unique perspective and guides her execution of the TCI mission and strategies to protect the vulnerable.
Conniel is a Board Member of EDGE Funders Alliance, which organizes within philanthropy to raise awareness and deepen understanding of the interconnected nature of the social, economic and ecological crises threatening our common future.  She also serves on advisory boards of groups that work to ensure human and environmental rights accountability of economic actors.
She received her law degree from the University of Virginia School of Law and her B.A., cum laude, in Government, with a concentration in International Relations, from Cornell University.  Conniel is admitted to practice law in Pennsylvania.
Nittaya Saenbut
Program Associate & Administrator, True Costs Initiative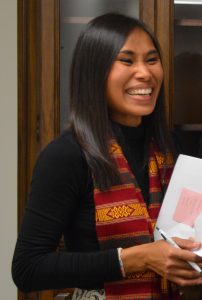 Nittaya joined the TCI team in late 2017 as the Program Associate & Administrator.  In her role she provides program and administrative support to the organization, manages the grant management system, and provides support to the Director and input on strategies.
Nittaya brings to TCI her insights and perspectives gained from a decade of experience working directly with disadvantaged and marginalized communities on issues such as youth development, education, family and community engagement, gender equity and cross-cultural learning.
Born and raised in the Northeastern Region of Thailand, Nittaya earned her B.A. in English and Communication from Ubonratchathani University, and her M.A. in Sustainable International Development from Brandeis University here in Massachusetts.