True Costs Initiative partners with a variety of nonprofits and thought leaders who advocate for strong corporate accountability mechanisms, robust legal systems, and the protection of environmental and human rights in communities where corporations have a business footprint. Some of our partners are highlighted below.
Center for International Environmental Law (CIEL)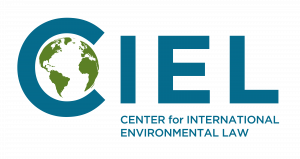 Because of TCI's commitment to environmental justice in the Caribbean, we want to highlight the first constitutional climate case in the Caribbean filed by Guyanese citizens.  This first case of its kind in the region has international significance on climate litigation and reflects the growing concern within Guyana on the multidimensional risks oil extraction poses.
The case challenged the government's authorization of a massive, ExxonMobil-led oil and gas buildout off the country's coast, claiming that it violates Guyana's legal duty to protect the rights to a healthy environment, sustainable development, and the rights of future generations.  Considering that 76% of Guyana's population live below sea level, this case is path-breaking but also reflects a severe environmental crisis.  One of TCI's partners and allies, Center for International Environmental Law (CIEL), provided allyship and support along with several other groups, following the lead of Guyanese citizens and local advocates.  Learn more about this case here.
International Corporate Accountability Roundtable (ICAR)

The International Corporate Accountability Roundtable (ICAR) harnesses the collective power of progressive organizations to push governments to create and enforce rules over corporations that promote human rights and reduce inequality. True Costs Initiative is one of many global partners who has helped enable ICAR to build, implement, and enforce laws and policies that seek to build accountability over corporations for impacts on people. At ICAR, they believe that for human rights to thrive, we must remove barriers to a more just and equal society, including here in our own backyard. They believe that by researching, advocating and campaigning for a rights-based economy, they can do just that.
Accountability Counsel

Accountability Counsel's mission is to "amplify the voices of communities around the world to protect their human rights and environment." As advocates for people harmed by internationally financed projects, they support communities to effectively use accountability offices and work to ensure that these offices are transparent, fair and independent tools for justice. They envision a world where (1) communities can take part in decisions that affect them and secure remedy to realize rights; (2) effective and robust accountability systems deter abuses; and (3) international institutions and corporations respect communities and prevent abuses. Accountability Counsel pays particular attention to the rights of women and girls, whose voices are often absent in discourse on projects affecting their communities. True Costs Initiative has partnered with Accountability Counsel in their Community Program which helps to level the playing field between powerful institutions and local communities by providing legal counsel to help people understand their rights and navigate accountability offices and in their Policy Advocacy Program which  ensures that accountability offices – on paper and in practice – are independent, fair, transparent, professional, accessible and effective.
New Media Advocacy Project (NMAP)

NMAP advances human rights by merging law with multimedia storytelling to bring the voices of people who have suffered violations into the halls of power. In partnership with human rights defenders, NMAP produces tactical, audience-focused videos designed to win cases and campaigns, influence policy, mobilize communities, and make the technical language of policy and law more accessible. They envision a world where new technology has leveled the playing field, and survivors access their inherent power by confronting abusers with their stories. True Costs Initiative has supported NMAP's partnerships on business and human rights issues and enabled the implementation of the organization's three-year strategic plan.
Environmental Law Alliance Worldwide (ELAW)

TCI is proud to partner with Environmental Law Alliance Worldwide (ELAW).  ELAW helps communities speak out for clean air, clean water, and a healthy planet.  They are a global alliance of attorneys, scientists and other advocates collaborating across borders to build a sustainable, just future.